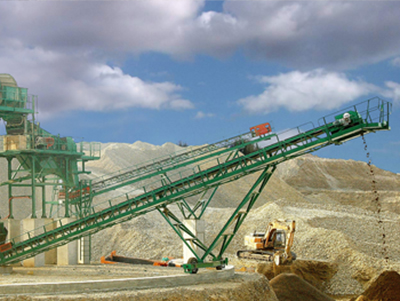 A belt conveyor is a continuous transport system essentially comprising a conveyor belt, a continuous belt that moves between two pulleys, also known as drums.
The belt moves through the friction created by one of the pulleys, which in turn is driven by a motor. The other pulley usually turns freely, without a drive of any sort, and its function is return the belt to the drive. The belt is supported by rollers between the two drums or by a continuous cradle structure made of sheet metal or some low-friction material.
Conveyor belts are mainly used to transport granular, agricultural and industrial materials, such as grain, coal and minerals. However, they can also be used to transport people. They are often used to load or unload cargo ships or goods vehicles. Belt conveyor systems exist in a wide range of shapes and sizes that differ in the way they operate, and their means and direction of transport.
Conveyor belts are widely used in distribution and assembly lines. They are also used to move people, including at sports facilities such as ski resorts, golf courses and artificial whitewater courses.
If you stop and think for a minute, you will realise that conveyor belts are found in almost every sector of our society.
TUSA has a wide range of belt conveyor systems for use in all the previously mentioned sectors.
Advantages of belt conveyor systems
They allow materials to be carried over long distances.
They adapt to the terrain.
They have a large transport capacity.
They allow a wide variety of materials to be transported.
Loading and discharging is possible at any point along the route.
They can be moved.
They do not alter the transported product.
Conveyor belt covers
Conveyor belt covers mainly serve to protect the transported materials from inclement weather, as well as to prevent pollution of the working environment and increase safety.
TUSA most commonly used the following systems to cover its conveyor belts:
Sheet metal cover:This system comprises the placement of modules made of galvanised metal sheets. This self-supporting, modular hood system is attached to the frame without the need for structural supports.
Polyester cover: The self-supporting modules of this system are made of polyester. They are mainly used on conveyor belts that carry corrosive materials, such as salts and fertilisers.
Canvas cover: Hoop supports are positioned along the belt frame to hold the canvas, which is attached using elastic tensioners with hooks. This is the most affordable option.
Scrapers
TUSA is aware that one of the difficulties posed by belt conveyor systems is belt cleaning. It is necessary to remove all traces of the material adhering to the belt after discharging in order to prevent the return rollers from being covered with the material and any resulting possibility of spillage along the length of the conveyor.
The scrapers designed and manufactured by TUSA are compatible with all types of belt conveyor systems, including two-way conveyors.
TUSA can integrate high-efficiency belt scrapers that that are able to remove practically all the material adhering to the belt.
Pulleys/Drums
TUSA designs and manufactures all types of pulleys and drive couplings, welded shafts, taper-lock bushes, drum-mounted bearing housings, etc.
The drums TUSA incorporates into its designs are machined convex-crown pulleys, both with and without rubber lagging.
GALLERY
Contact our specialists now!
Services
WE OFFER FIRST-CLASS TECHNICAL SERVICE YOU CAN TRUST.
PRODUCTIVITY
Maximise productivity and efficiency.
COSTS
Reduce operating and maintenance costs.
OPTIMISATION
Optimise your maintenance schedule.
TIME
Detection and treatment of weak spots as early as possible.