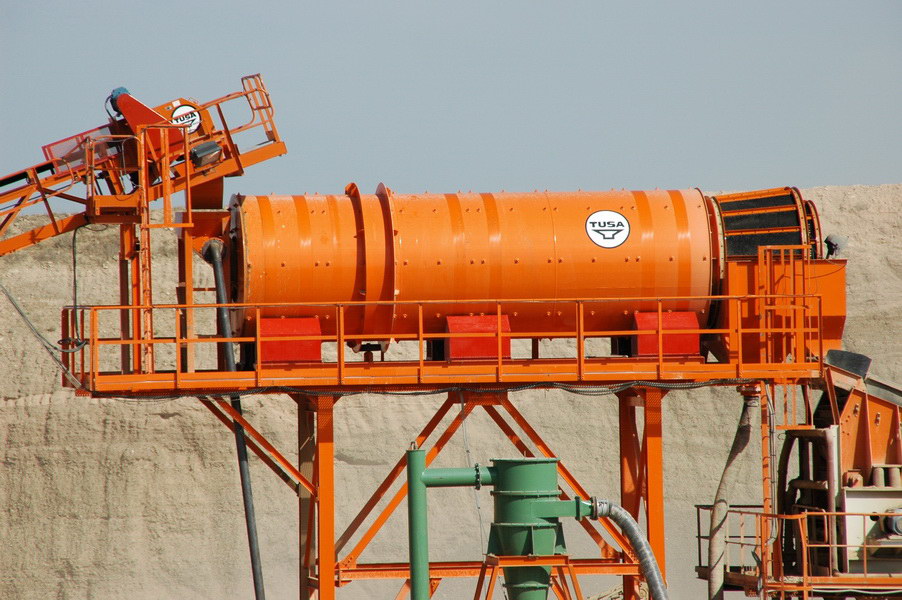 The TUSA range of products includes this trommel washer which uses friction to vigorously wash such materials as rocks and medium and coarse gravels.
They also break up and separate particles adhering to the aggregates of poor quality that cannot be treated by conventional systems.
Description
The unit is built of cold-formed sheet steel shaped into a drum with a considerable thickness to withstand the huge mechanical effort and wear to which it is subjected.
Depending on the abrasiveness and grain size of the materials to be washed, the drum may be lined with wear-resistant plates or abrasion-resistant rubber sheeting.
In both cases these are assembled in removable sections and bolted onto the drum.
The rubber lining also brings significant noise reduction during machine operation.
In all cases, the inside of the drum is fitted with anti-clogging blades and longitudinal lifter bars.
Optionally, a sorting drum can be positioned at the trommel outlet to improve the washing process and perform a preliminary sorting of the finest materials.
Trommel Driver
The drum is driven by geared motor units that are directly coupled to the turning wheels, both these and the carrying wheels are solid in order to reduce maintenance times.
The wheels and geared motor unit of the drive system are mounted on a bench made of laminated profiles to form an independent, sturdy and compact unit.
Range
There are 6 models in TUSA's trommel washer range, offering production volumes of between 50t/h and 500t/h.
GALLERY
Contact our specialists now!
Services
WE OFFER FIRST-CLASS TECHNICAL SERVICE YOU CAN TRUST.
PRODUCTIVITY
Maximise productivity and efficiency.
COSTS
Reduce operating and maintenance costs.
OPTIMISATION
Optimise your maintenance schedule.
TIME
Detection and treatment of weak spots as early as possible.