CT Troughed Belt Conveyors
CT Troughed Belt Conveyors
TUSA 's CT range of belt conveyor systems build on the successful design of the CM range in response to greater demands for solid construction, performance and efficiency.
They are sturdy conveyors designed with a light-weight tubular truss frame that offers good value for money and low maintenance costs. They are used in all kinds of industrial applications with more demanding requirements.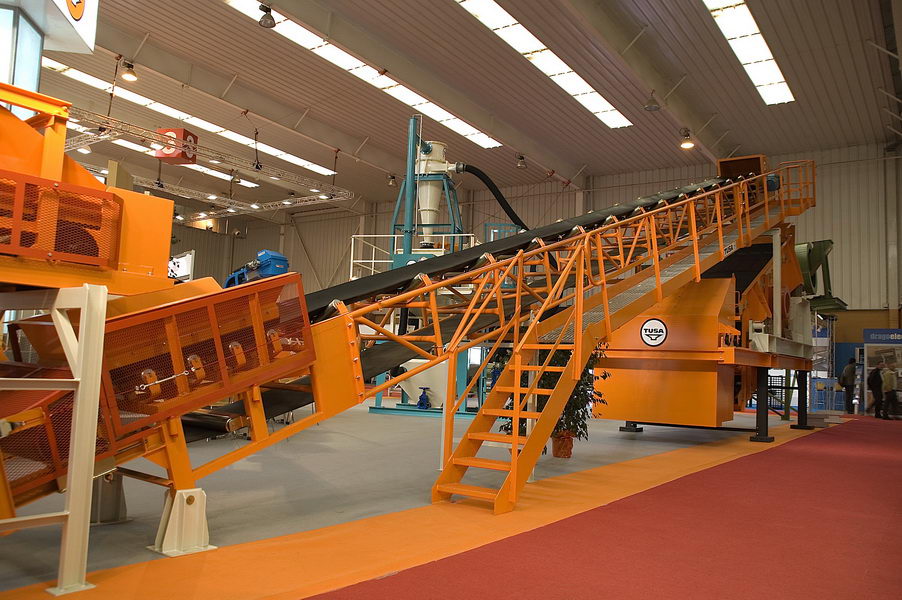 TUSA has continued with its modular design for these belt conveyor systems, with sections ranging between 0.5m and 6m in length, allowing a conveyor of any length to be built.
The CT range of belt conveyors comes with belt widths of 500mm, 650mm, 800mm and 1000mm.
TUSA continuously replenishes its stock of CT conveyor modules, allowing delivery times to be shortened.
CT belt conveyors are used in different industrial sectors, providing highly satisfactory service to their users.
Advantages of the CT range
Solidly built with large transport capacity.
Modular sections to allow fast modifications to conveyor lengths.
Continuously replenished stock of fabricated modules for fast delivery.
Good value for money with low maintenance cost.
Suitable for use in different industrial sectors.
Main Characteristics:
Welded tubular truss frame (consisting of longitudinal tubes 48x25mm in diameter and vertical tubes 42x25mm in diameter)
Modular design with 0.5–6m-length sections for easy length modification.
Metal, convex-crown pulleys (300mm diameter) with rubber or ceramic lagging, ensuring belt self-alignment.
Idlers are grease-packed and sealed-for-life; idler diameter 89mm, shaft diameter 20mm.
Reputable brands of flat and patterned belting.
Power transmission: right-angle geared motor unit, drum motor.
Drives: electric and hydraulic.
Maximum spans 10 m.
SKF pillow block bearing housings.
Standard Equipment:
Loading and discharge hoppers.
Side guides.
Cover (polyester, canvas, galvanised sheet metal).
Belt tripper.
Support legs.
Access walkway for inspection and maintenance.
Waste collection tray underneath.
GALLERY
Contact our specialists now!
Services
WE OFFER FIRST-CLASS TECHNICAL SERVICE YOU CAN TRUST.
PRODUCTIVITY
Maximise productivity and efficiency.
COSTS
Reduce operating and maintenance costs.
OPTIMISATION
Optimise your maintenance schedule.
TIME
Detection and treatment of weak spots as early as possible.