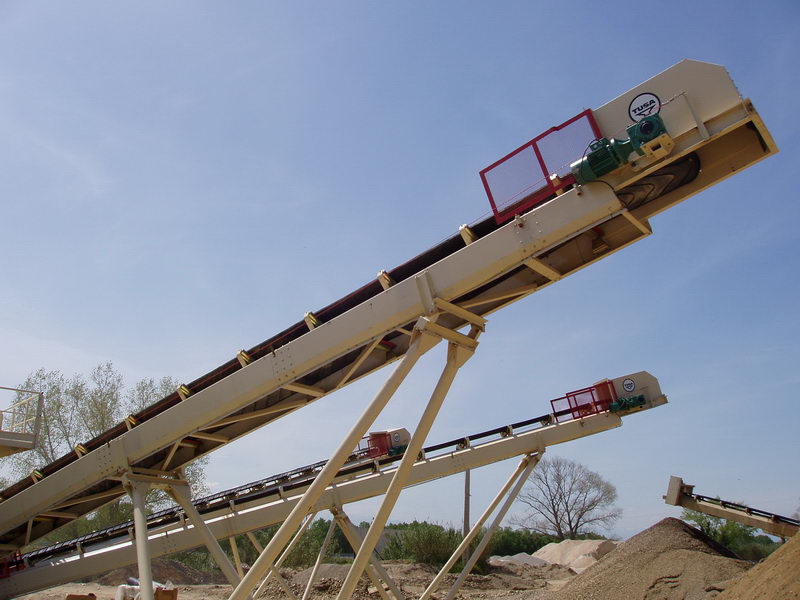 TUSA 's CF range of belt conveyor systems utilise standard fabrication systems.
They are solidly built systems with a folded steel profile frame assembled with bolts.
The CF range of belt conveyors comes with belt widths of 500mm, 650mm, 800mm and 1000mm.
CF belt conveyors have a modular design; they are built as a set of independent, bolt-fastened modules that provide users with easy assembly and disassembly, also allowing for also future extensions according to distance over which materials are to be transported.
Models in the CF series have a belt width ranging between 400mm and 800mm.
TUSA continuously replenishes its stock of side rails, which are common to all widths, allowing for shorter delivery times and reducing production costs through a standardised process.
CF belt conveyors are used in different industrial sectors, providing highly satisfactory service to their users.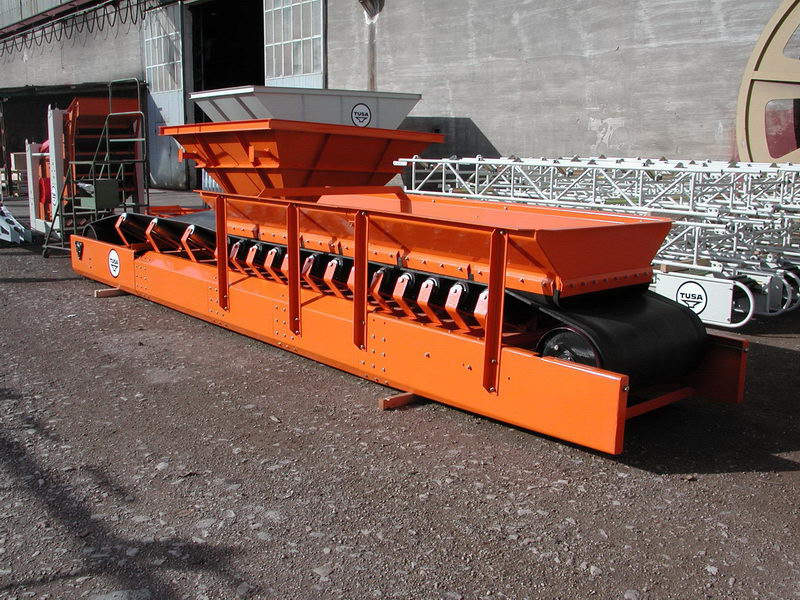 Advantages of the CF range
Solidly built with large transport capacity.
Modular sections with bolted assembly to allow fast modifications to conveyor lengths.
Continuously replenished stock of fabricated modules for fast delivery.
Suitable for use in different industrial sectors.
The troughed-belt design ensures that there are no spillages on the return side of the conveyor belt.
Easy storage and highly efficient shipping from factory to site owing to fully bolted assembly.
Spans between supports ranging from 9m to 14m.
Main Characteristics:
Folded steel profile frame.
Central modules with 0.5–4m-long sections for easy length modification.
Tambores bombeados (400 mm de diámetro) metálicos engomados o cerámicos asegurando el correcto centrado de la banda.
Idlers are grease-packed and sealed-for-life; idler diameter 89mm, shaft diameter 20mm.
Reputable brands of flat and flighted/cleated belting.
Power transmission: V-belts, geared motor unit or drum motor.
Drives: electric or hydraulic.
Upper roller bridges bolted to the structure with a 1m separation between each.
Lower bridges bolted to the structure with a 3m separation between each.
Meccano-like assembly designed for smaller volume for shipping, reducing transport costs from factory to site.
Standard Equipment:
Loading and discharge hoppers.
Side guides.
Cover (polyester, canvas, galvanised sheet metal).
Access walkway for inspection and maintenance.
Bottom tray for waste collection.
GALLERY
Contact our specialists now!
Services
WE OFFER FIRST-CLASS TECHNICAL SERVICE YOU CAN TRUST.
PRODUCTIVITY
Maximise productivity and efficiency.
COSTS
Reduce operating and maintenance costs.
OPTIMISATION
Optimise your maintenance schedule.
TIME
Detection and treatment of weak spots as early as possible.