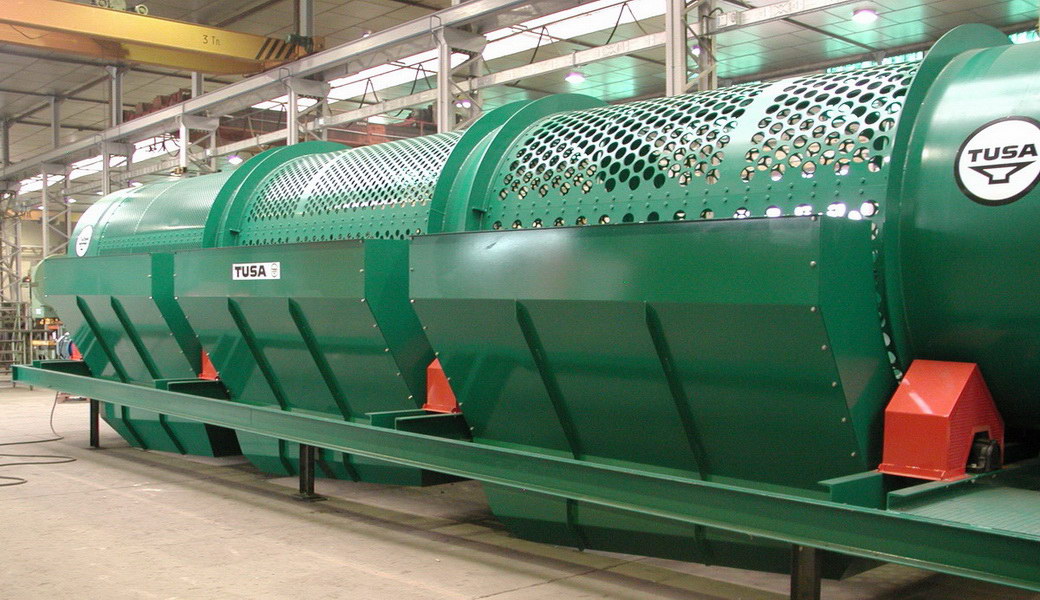 These screening machines have a cylindrical drum or barrel that can rotate around a shaft passing through the centre, although they are mostly driven by a set of pneumatic wheels located outside.
Trommel screens are positioned horizontally or on a slight incline towards the outlet to facilitate feeding of material.
They are made of curved perforated plates or a suitable assembly of mesh panels.
Cleaning of holes is achieved by gravity causing any trapped material to fall as they rotate towards the top, helped by the small vibration that this motion always entails. Optionally, this cleaning process can be enhanced by the placement of a few external brushes, although this option is only effective with certain materials.
Sorting and Recycling Trommels
TUSA incorporates its classification trommels in the following recycling fields:
Urban waste
Electrical and electronic waste
Plastic waste
Construction and demolition waste
Glass recycling
Recycling automobile scrap
Compost facilities
Aluminum recycling
Biomass
GALLERY
Contact our specialists now!
Services
WE OFFER FIRST-CLASS TECHNICAL SERVICE YOU CAN TRUST.
PRODUCTIVITY
Maximise productivity and efficiency.
COSTS
Reduce operating and maintenance costs.
OPTIMISATION
Optimise your maintenance schedule.
TIME
Detection and treatment of weak spots as early as possible.