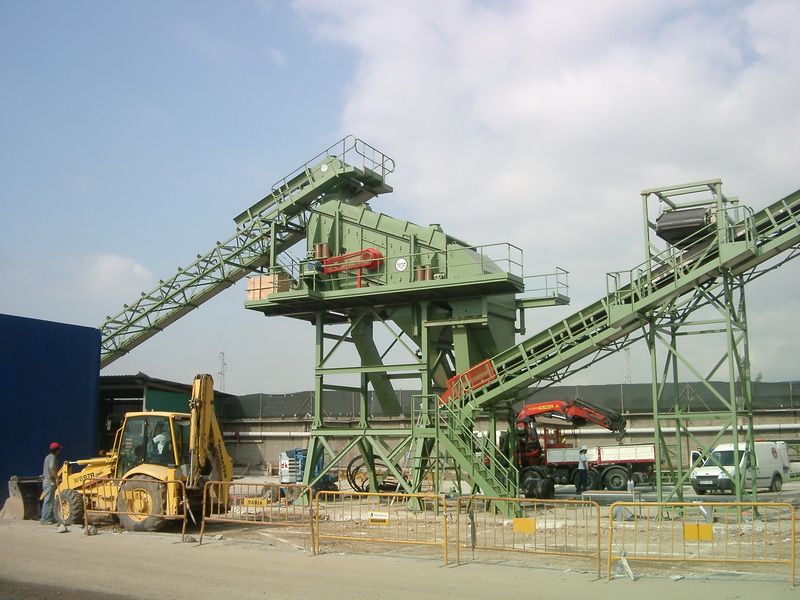 These are machines that separate different materials by size.
TUSA incorporates vibrating screens, powered by eccentric rotating mass vibration motors, into its equipment range. These screens are manufactured by TUSA as the HN series.
Mechanical Characteristics
The mechanism that powers these screens is an eccentric rotating mass vibration motor that can regulate vibration intensity.
Vibration amplitude is regulated by the counterweight, which allows amplitude to be increased or decreased.
The counterweight shaft is mounted on the vibrator frame with two large roller bearings.
The bearing lubrication system is designed to prevent the entry of dust and other impurities. These generally use grease, except in the case of the heavy models, for which a circulating oil lubrication system is used.
The vibrating structure of the screen comprises two side panels connected by the frames housing panels of wire mesh. These rigid frames are solidly built using girders.
The suspension system for the screens is made up of spiral springs to achieve greater uniformity of motion.
TUSA HN series screens are well supported and the springs work by compression.
These screens are equipped with an amplitude limitation device for stopping and starting.
---
Advantages of use
TUSA HN series with two roller bearings allows different types of materials to be screened, whether coarse or fine, because vibration intensity is regulated by a system (eccentric mass counterweight) that increases or decreases the vibration amplitude.
TUSA HN screens make it possible to screen very fine materials or to screen coarse aggregates up to 200mm in size. They are exceptionally sturdy.
The large mechanism allows it to withstand significant flows and transient overloads.
They are affordable and cheap to maintain.
---
Uses for TUSA HN screens
TUSA screens are being used in different industrial sectors such as:
Public works
Quarries
Gravel pits
Recycling facilities
Industry
Natural and artificial aggregates
Glass
Coal
Wood
Aluminium
Plastics
Ferrous and non-ferrous metals
Construction waste management
Composting
GALLERY
Contact our specialists now!
Services
WE OFFER FIRST-CLASS TECHNICAL SERVICE YOU CAN TRUST.
PRODUCTIVITY
Maximise productivity and efficiency.
COSTS
Reduce operating and maintenance costs.
OPTIMISATION
Optimise your maintenance schedule.
TIME
Detection and treatment of weak spots as early as possible.