CP Mobile Belt Conveyor Systems
CP Mobile Belt Conveyor Systems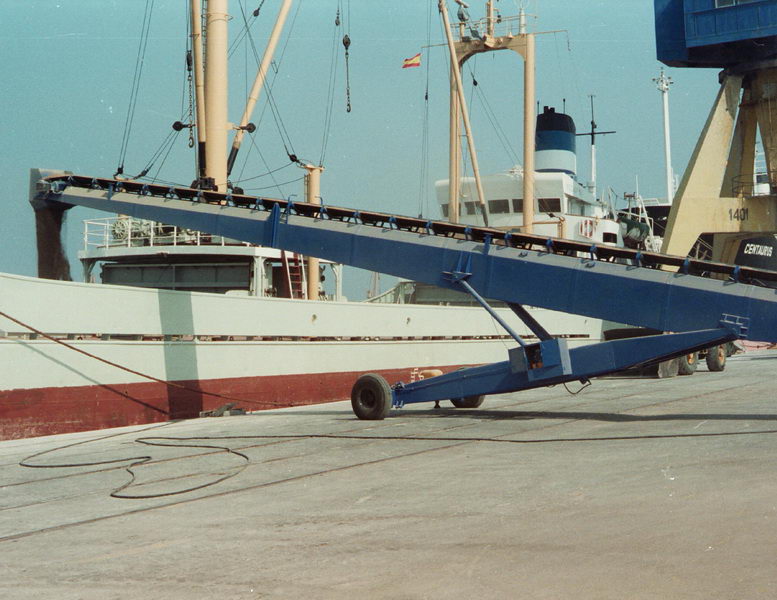 TUSA 's CP range of belt conveyor systems utilises standard fabrication systems.
They are solidly built systems with a folded steel profile frame.
The CP range of belt conveyors comes with belt widths of 500mm, 650mm, 800mm and 1000mm.
These are conveyors with a high workload for use in different industrial sectors, providing a highly satisfactory service to their users.
Advantages of the CP series
Solidly built with large transport capacity.
Mobility – these conveyors are equipped with an undercarriage for both linear and rotary movement, which are standard positions for these conveyors.
Long cantilevered section on the discharge side allowing good reach into discharging areas.
Hydraulic height adjustment, with manual or electro-hydraulic drive system.
The frame sections pivot on pins, allowing the conveyor to fold up into one or two parts, depending on the length (see catalogue), facilitating transport without having to dismantle the conveyor components.
Main Characteristics:
Solidly built folded steel profile frame
Different mass-produced lengths and widths, as shown in the catalogue.
Metal, convex-crown pulleys (300mm diameter) with rubber or ceramic lagging, ensuring belt self-alignment.
Idlers are grease-packed and sealed-for-life; idler diameter 89mm, shaft diameter 20mm.
Reputable brands of flat and flighted/cleated belting.
Power transmission: V-belts, right-angle geared motor unit or drum motor.
Drives: Electric or hydraulic.
Standard Equipment:
Loading and discharge hoppers.
Optional tilting discharge hopper with pneumatic, hydraulic or electric drive.
Side guides.
Cover (polyester, canvas, galvanised sheet metal).
Waste collection tray underneath.
Rotary movement with electric motor.
Manual raising and lowering using hydraulic or electro-hydraulic pump.
GALLERY
Contact our specialists now!
Services
WE OFFER FIRST-CLASS TECHNICAL SERVICE YOU CAN TRUST.
PRODUCTIVITY
Maximise productivity and efficiency.
COSTS
Reduce operating and maintenance costs.
OPTIMISATION
Optimise your maintenance schedule.
TIME
Detection and treatment of weak spots as early as possible.